General Information
Gym Policies:
1. Unless under direct Coach Supervision, Gymnastics equipment is not to be used.
2. Food and Drink are not permitted in the gym.
3. Shoes must be removed and left in the front lobby before entering the gym.
4. Only athletes and staff may enter the gym passed the bleacher area (parent accompanied classes are excepted).
5. We make every effort to provide a nut-friendly environment. Please do not bring any food products containing nuts into our facility.
6. Coaches, class times, group sizes and age ranges are subject to change at GymZone's discretion.
What to Wear
How to Choose a Class
Our recreational classes are grouped by age followed by skill level. You can view classes and register online here.
We have a supervisor in the gym each evening focused on safety, mentorship of our coaches, extra support for the participants and talent identification to make sure your child is in the correct group or need to be moved to a different class. Our Recreational Team and Program Lead would be happy to help you further with any questions you may have or if you would like to request an assessment. Please email recdirector@gymzone.org for more information.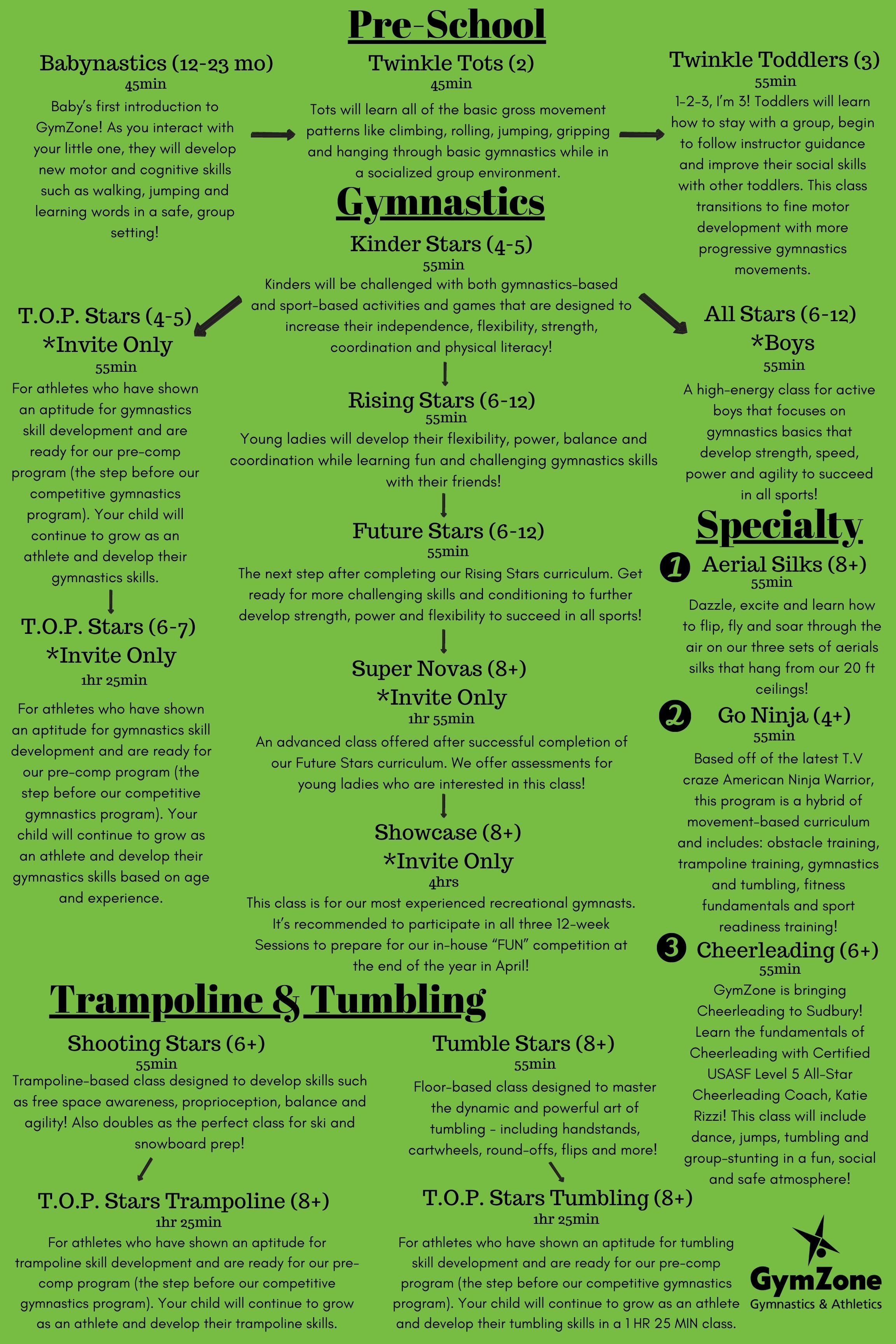 Class Cancellations
We rarely cancel classes, but in the event that this needs to happen due to road conditions, or an unforeseen emergency we email all of our members notifying you of the cancellation. *Please make sure your email is up to date. We will also post on Facebook and Instagram and our website as well as a sign on our doors. We will also update our voicemail to ensure that we've exhausted all communication outlets to keep you informed.
*Due to our back to back schedule, we are unable to schedule make up classes for those that are cancelled due to inclement weather or unforeseen emergency.