About Us
Our Mission
To deliver the highest quality programs in our community based in gymnastics that encompass athlete fitness, movement fundamentals, and – the key ingredient – maximum FUN! Our Vision is for GymZone Gymnastics & Athletics to be the "go to" centre in our community for the development of individual potential in children of all ages and skill levels.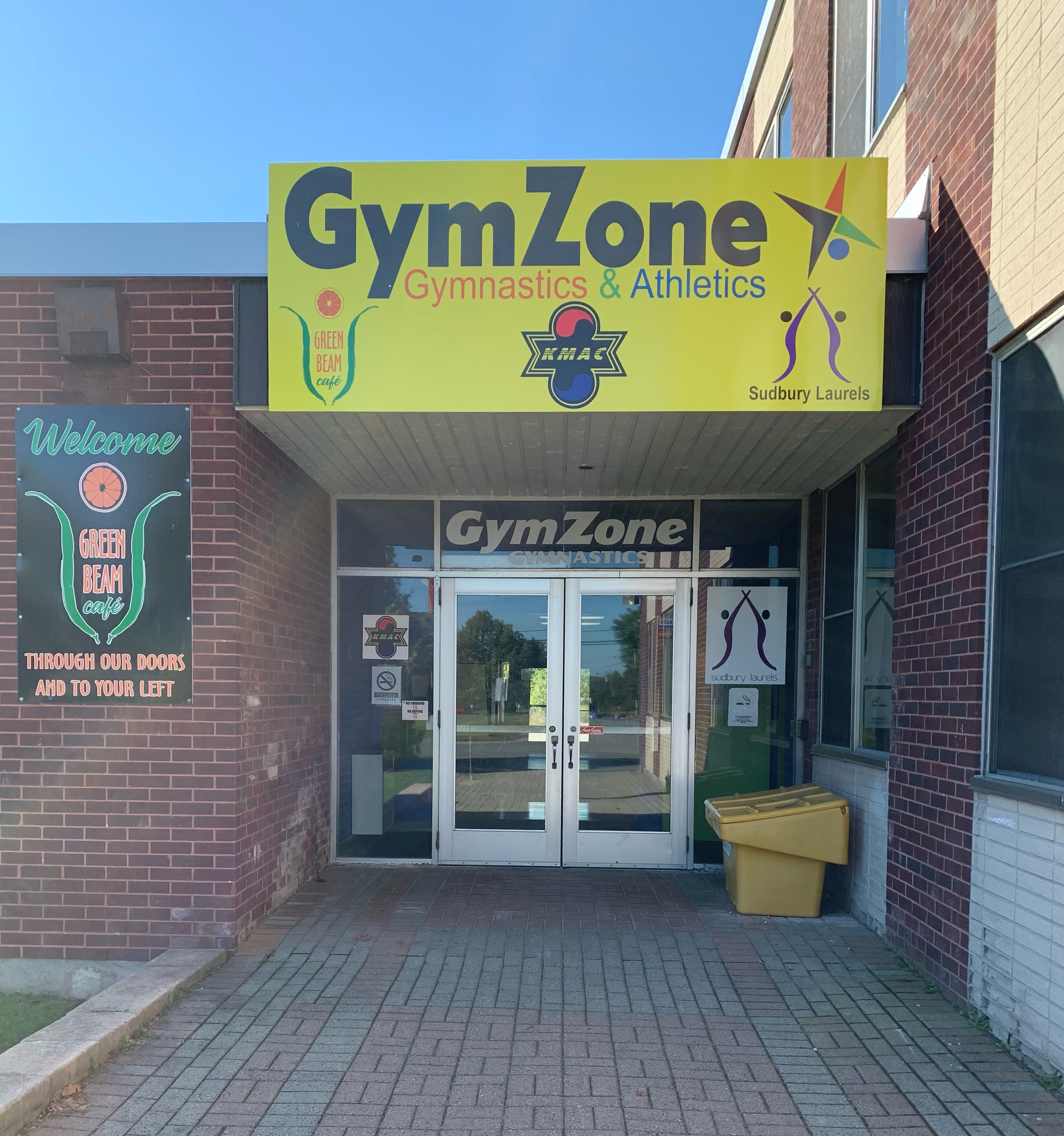 Our History
It all began in 1969 with the Sudbury Laurels Gymnastics Club – a gymnastics program established and maintained by volunteer coaches and parents. For many years the club rented school gyms, setting up and tearing down for each practice.
In 1977, with the help of a Wintario grant, the club purchased equipment and moved to its first permanent space, a renovated warehouse on Mountain Street. Since then, the club has moved to numerous locations, always looking for a more permanent home for its growing membership.
In 1999, the Sudbury Laurels changed its' operating structure with the creation of GymZone Gymnastics & Athletics Inc. GymZone focuses on developing athlete opportunities and manages the competitive programs for the Sudbury Laurels.
In 2003, the club moved and expanded to its current home, the 14, 000 square foot state of the art facility at 1311 Gemmell Street. A few years later, recreational programming was started in Valley East, followed by Espanola. Korean Martial Arts (KMAC) added their programs to the Sudbury and Valley East locations. 2891 Martin Road continues to grow but GymZone is still looking for a location to re-establish Espanola programs.
At the heart of GymZone/Sudbury Laurels are partners Lisa Kivinen and Jack Miller. They come from very different backgrounds; Lisa from being a high level competitive athlete and coach, Jack from pure recreational and high school competitive. Together, they share a passion for recognizing and developing the talent of every individual. For them, there is no greater satisfaction than seeing an athlete finally attain a challenging goal... be it their first cartwheel or a double back somersault! In their perfect world, every child in Sudbury and the surrounding area would create an athletic base in gymnastics that would see them succeed in any physical activity they desire.
Our Leaders
Lisa Kivinen's Bio

Lisa started her first gymnastics lesson in 1977 after watching the infamous, Nadia Comaneci score a perfect 10 at the Montreal Olympics. Initially, Lisa trained and competed on trampoline at the primary school level, and after some encouragement from her teacher, she joined the Sudbury Laurels. Lisa eventually trained and competed a very high level of gymnastics, often becoming the first gymnast in Northern Ontario to complete skills done by very few gymnasts.

At the age of 14, Lisa began sharing her passion for gymnastics with other athletes. She coached her first group of recreational gymnasts and became a Provincial Level Gymnastics Judge. At 17, Lisa hung up her competitive leotard and realized that coaching and judging Provincial Level gymnastics enabled her to share her passion with as many children as possible.

Lisa's belief that every child benefits by doing gymnastics is what has driven her to continue the growth and accessibility of GymZone. She has witnessed how even one session improves a child's overall dexterity, increasing their confidence. Lisa is famous for telling all who will listen about some of Sudbury's most successful athletes, like hockey players, track and field athletes, swimmers, soccer players, that have benefited from gymnastics at GymZone. Her famous line is "Look at what it did for Zdeno Chara".

Lisa will always be dedicated to enriching the lives of children in the broader community. Her commitment to many volunteer organizations such as SportLink (City of Greater Sudbury Sport Council), Laurentian University Board of Governors, Ontario Trillium Foundation – just to name a few, shows her passion for our community and its' overall success. Lisa continues to invest her heart into GymZone as she feels it is more then just a facility for gymnastics but rather an avenue for all of Sudbury's youth to reach their full potential.

Jack Miller's Bio

Jack's love of gymnastics started in primary school, fuelled by a teacher with a passion for challenging boys to swing higher, run faster, and try something more difficult. Unfortunately, there weren't any clubs or coaches in the area, so by the end of high school, gymnastics had become just a fun way to stay fit.

After graduating and moving to the Sudbury area, a neighbour asked Jack to help with a small recreational class. The spark was rekindled. From 1975 to 1997 Jack built a recreational club north of Sudbury that saw over 300 participants annually. That club is still a dynamic part of the community and has added competitive gymnastics to its programming.

In 2003, Jack had the opportunity to help GymZone relocate, and add on, to its Gemmel Street location. That started a partnership between Jack and Lisa, to create as many opportunities as possible for northern children to become active. Since then, Gymzone has added satellites in the Valley and Espanola as well as programming in martial arts and dance. Like Lisa, Jack finds time to be involved in the broader community – coaching high school and other sports teams, volunteering for United Way and sitting on a few not-for-profit boards.

"After 35 years, your focus can change. While I enjoyed my very short stint as a competitor, and definitely love coaching high school, my greatest pleasure now comes from two things – seeing an athlete realize that they can do (their first roll, cartwheel, double play) and discovering a coach with a passion for encouraging children, and a desire to get better every day."